Someone believed in me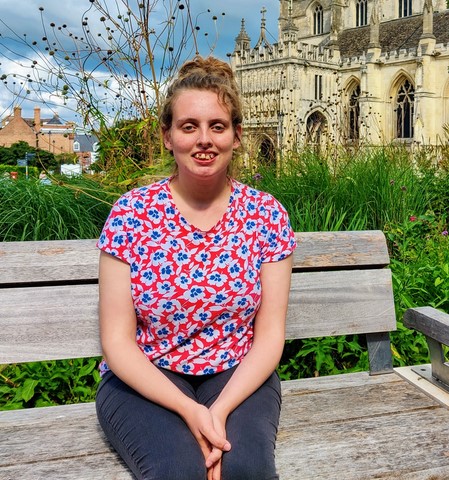 The pandemic has affected many people's employment status and has caused severe job loss amongst young people under 25. We wanted to help those young people affected find their way back into employment. Jess was the first person we worked with, having contacted her during the 2021 lockdown.
We helped her format her CV and sent her resources she might find helpful regarding interview techniques. Once lockdown lifted, we were able to work with her more intensely.

Although Jess was incredibly keen to get a job, it was pretty clear that she had lost confidence over time. Looking for a job is hard work. The setbacks often feel personal, and the Job Centre cannot always invest time into those who need it the most. After an initial meet-up over coffee, we invited her to attend weekly sessions at our office, where she had her own workstation to look for and apply to jobs. As one of the team was always in, she could also ask for help if necessary. Thanks to this setup, Jess was able to write more applications in one day than she had for a long time.

The first morning was a massive success for Jess and uplifting for the team as we watched her grow in confidence by achieving something she had not been able to do before. Once the first few applications were out, we started to focus on the interview as she already had several invitations! We went through the most common interview questions, what they mean and what answers employers expect to hear and gave her a mock interview over Zoom. Jess had her first interview while the team was on the Cotswold Way fundraiser. On our last day, we received a message from her saying her first interview had been a success and she had the job! It was just the motivation we needed to persevere on the last miles of a gruelling walk.

We talked to Jess about her experience so we could hear it from her perspective.
Did you have support from other organisations before coming to Youth for Christ Gloucestershire?
Yes, but they weren't helping me. They were shifting me off to different places, telling me what to do, but they weren't actively helping me.

You have said before that you felt that other organisations gave the impression that you were a lost cause. When you came to us, were you worried we would do the same thing?
Yeah, because I had been let down by different places before. But Youth for Christ, they were there to support me. They helped me with everything, prepared me for interviews, and I never had any of that anywhere else.

How many jobs were you applying for before and after you started getting support from us?
Before Youth for Christ it was hardly any. On the first day with Youth for Christ I applied for five jobs.

So what was the difference between applying for five that one day and before? What suddenly changed?
Because it was a different environment, so it was easier to concentrate. Having people there to help me gave me patience and someone helped check my applications.

When you completed your fifth application, you pressed Enter, and said "they said I couldn't do it". That's quite powerful, it is a real statement of I can do this .
Yeah, when I came to Youth for Christ I finally had someone who believed in me.

What was the interview preparation like and how did that feel?
It was scary at first, but then it wasn't that hard once I stopped overcomplicating everything. I learned how to do Zoom for a start and did a practice interview. I had all my interview questions written out and how I would answer them so I could look at them if I ever got nervous.

It is amazing, you did one Zoom interview, and you got the job, which means you've got a 100% record.
Tell me about what happened on the bus after your first day in our office.
I got on the bus to go home and I phoned Steph (a friend of Jess and one of our trustees) and I was telling her about my day with Youth for Christ. This man sat behind me was listening to me. I got up because I was getting off at my stop. He told me I was a good person and gave me money to buy some interview clothes, which made me feel really happy because it was unexpected. It also made me feel more motivated to get a job now that somebody gave me that money. Nothing like that ever happened to me before.

That's amazing, I love that story. It was almost like God was saying "I've got you Jess".
What difference did it make to have Youth for Christ Gloucestershire support you?
It made a big difference because I knew somebody believed in me. Up to that point, before I started, I had virtually given up completely, because there seemed no point, but Youth for Christ helped get the ball rolling. It turned out to be a lot better than I expected.

Tell us about the job at North Face? How is it going two months in?
It's a bit of everything. I've been doing till work and I sell things. I sell coats and things. I encourage people to buy by giving them advice and explaining what the difference is between each one. They said I'm doing a really good job. I am getting to know people better over the last few weeks, I started to feel more confident. But it takes a while to settle down.
What would you say to a young person who has been out of work about getting help from Youth for Christ?
I would say if you get offered to go to Youth for Christ, take it, because if I didn't have their help, I would still be in the same mess I was in. And I feel more confident and the key is to never give up because you get there eventually.

Jess' story is a testimony to God's grace and kindness. We are very proud of Jess' hard work put into the job search and are happy to see her enjoying her new work.