Paul Bennett Centre Director
Paul has been the Centre Director since 2001, prior to this he was a church based youth worker in London. He has also been involved in the management of residental housing for people with learning difficulties. He is a member of the British Youth for Christ coaching team.

Paul loves cycling and is a fan of Southampton FC.
Josh Lawrence Youth Worker
Josh joined us as a YFC gap year volunteer in 2015. At the end of his year he joined the team as our Youth Worker. He graduated from De Montfort Univeristy in 2015 with a Computer Science degree. He is from Sutton Coldfield but insists he is not a Brummie!

Josh has been part of a Christian community for a long time, however has only recently found his calling to youth work. He is very excited to be part of the vision for YFC Gloucestershire and Tewkesbury Baptist.
Caitlin Burdis Gap Year volunteer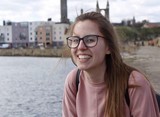 Caitlin is on a Youth For Christ gap year. She comes from Fife in Scotland and has just finished high school. She has a place to study social work at university in 2018. Caitlin became a Christian in 2013, and has just finished working at a Christian outdoor activity centre, in which she found her calling to youth work. She is very excited to be working with the young people of Gloucestershire and in the schools in the area.
Caitlin really enjoys drinking tea, reading and watching musicals!
Daniel Schulz Gap Year volunteer
Daniel is doing a Youth for Christ gap year based in Gloucestershire. He is from Brunswick in Germany where he finished school in the summer of 2017. He grew up in a Christian family and applied for this year because he wanted to improve his English and set aside a year for God. He is very excited to see what God will do in Gloucestershire this year.

Daniel likes playing and watching sports and listens to good music.