Growing families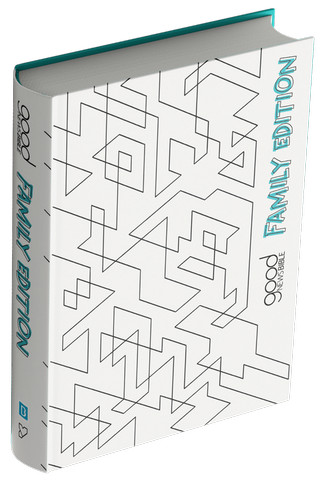 Last term saw the launch of the Good News Bible: Family edition. It follows on from the successful Youth Edition and is another collaboration between Youth for Christ and the Bible society
The Family edition includes:
Tips on how to read the Bible, maps, indexes and Family Bible journeys.
5 different ways to interact with the text: Think, Chat, Do, Create and Watch.
Double page introductions to each book of the Bible with info on how it fits with the bigger story, key verses, prayers for the family and questions to chat through.
Space for writing, doodling, drawing and reflecting.
Links to a dedicated videos that unpack some key themes and issues.
Access to an online community with material to help explore the Bible.
The Bible is an incredible and life-changing book. We believe that families can be transformed by reading the Bible together but we also know that it is a challenge to figure out how to go about that.

Perhaps you're pushed for time or don't know where to start. Perhaps you don't feel qualified, or it just seems too difficult to motivate all ages to take an interest. The Good News Bible: Family Edition is not here to tell you how to read it but to help you experience the many different ways you can and provide some helpful tools to do just that.


We are looking for eight families willing to undertake an experiment. Later this term, we will be running a project where the families will go through an eight week series of studies as a family. Each family will be given their own copy of the new Bible and will be asked to use it together twice a week, for approximately thirty minutes at a time. You will be provided resources to help and encourage you. At the end of the eight weeks, we will gather all the families and get feedback and testimony. In return, you will get pizza!


We are looking for families with at least one teenager. We want everyone to be willing to engage, both young people and parents, so everyone must be willing to give the time over the eight weeks.

We are excited about the potential for this project as we know that developing our spiritual walk as a family can be incredibly powerful.
If you would like to enquire about joining us for the project, there is no commitment at this point, please email paul@yfcgloucestershire.co.uk