Heading home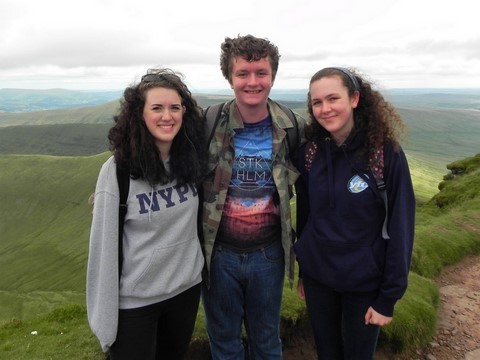 The school year comes to an end and with it so does the team. Having joined us in September as part of the YFC One gap year programme, Louissa, Bekky and Troy move on to a variety of things next year. We asked them to tell us a little about their year.

Louissa
Being part of the team has been great; I enjoyed the team dynamics and working alongside everyone. I particularly enjoyed having a chance to stop and meet with God as a team and having a chance to speak into each other's lives. We've had moments when we've worked hard, moments when we've focused on God, but also times to chill and just have fun together.
Two of the ways that God has really worked in my life is in my confidence and my trust. I have grown in confidence, in myself and in my own ability. I have also learned to rely on God more and to trust Him with both the little things and with my future.
At the beginning of the year I was terrified of leading sessions. Now, not only have I led various sessions, but I've led the Sunday morning youth group at my church. The other older, more experienced volunteers stepped back and let me run it.
The year was a good balance between pushing me to take on new challenges and opportunities, whilst letting me do what I was comfortable doing at each stage in the year. The spiritual support has been great. I feel I have really been invested in as an individual, in both my spiritual journey, and with my journey to university.
In September, I am going to Winchester University to study History and Politics.

Troy
At the beginning of the year it was great getting to know each other and finding out how well we got on. Spending time together as a team was great, especially when we ate together.
Our team retreat day was a real highlight for me as we spent time seeking God. I learnt lots about prayer this year; I never thought I would sign up to pray during the early hours of the morning which I did as a part of our 24 hours of prayer.
During the year I have become a lot more confident in sharing and discussing what my faith means to me. I have had loads of opportunities to share with people throughout the year, either in a one to one situation or from talking up front at things like the quiz night.
I think I have grown throughout the year and through God's strength have been able to overcome trials that have helped me mature. I have learnt all sorts of things such as what it is like to work in a church; lots about safeguarding and life skills such as ironing that will help me become more independent. I have also had opportunities that I did not expect such as public speaking. When I started on this year I was terrified of talking to crowds of people but I was given the opportunity to try and I feel a lot less scared about doing it now.
The year gave me the opportunity to face my fears and overcome them. When I lost a family member and wanted to quit, the team gave me the motivation and support that I needed to keep going.
It was cool working with the young people, watching them grow and getting to know them. I found St. Matthew's Church very welcoming and always there to support me when I needed it. They treated me like I was a member of the family and did not leave me out of anything that they were doing.
Next year I am heading back to Kingston where I will be involved with my local church and the YFC centre. I am also looking at college courses or work.

Bekky
The highlight of my year was creating the prayer room in the office, as this really impacted how I prayed for our work. We had plenty of challenging discussions with the team which have really helped me in how I answer questions, and being able to see how the young people we invest time in grow and learn and are changed by the end of their school year.
I have grown massively in my faith and confidence, mainly through being challenged and pushed beyond my comfort zone and learning new skills in a working environment. I have learnt to trust that whatever God calls me to do I will be able to achieve through Him, and even when I mess up God can still use me for His glory.
I cannot believe I have led youth sessions and worship in front of pretty big groups, this was a goal of mine and I feel that I have definitely grown in this area. Initially I found it difficult walking into schools where so many of the students and teachers have no interest in God, however this fuelled me to try and engage them in conversation and invite them to groups.
YFC Gloucestershire was brilliant at giving me opportunities to use my gifts, and pushing me to do the things I was less comfortable in.
I loved my church placement, Holy Trinity in Tewkesbury. The young people were a brilliant group to get to know and help in their faith. The youth team and staff were great to work with and I loved attending the services as everyone was really friendly and welcoming. My cell group also were a massive support to me whilst being there.
Next year I am doing another year with YFC One. This time I will be part of the YFC band called The Sense which tours around the country sharing the Gospel.

It has been a great year for our volunteers. They have made a big impact on all the young people we work with throughout the year. We will miss them as they move on but pray that God will continue to use them to take the Good News to young people wherever they are.